Me? A hat head?
Hats
After decades of neglect, hat is in fashion again! And everybody has the right to wear one. However, many do not dare go for it. Is it too gaudy? Too elegant? Beautiful but for others?
Read more ...

Of course not! We must here destroy the myth : There is no "hat head". It exist as many hats as faces in the world. Therefore, there must be at least one hat which is made for you...
Blog & Guide, Tips
So, what is the hat of my dreams?! You will ask yourfelf. This is our busisness, so before you go for the firsts hats you see, read carefully our shopping guide. It will certainly help you finding the right hat according to your morphology and your style.
Shapes
The Trilby is a hat made for men. It is now also adopted by women, for a look to the flapper. Its shape reminds us of the Borsalino but with a short edge, significantly lowered in the front. Symbol of elegance, it is mainly acclaimed by many artists (Scarlett Johansson, Justin Timberlake, Kate Moss, Pete Doherty, Charlie Winston ...), particularly in music (jazz, soul ...), making it a very trendy accessory . Worn with rather sober clothing, it's fit for summer, with the cotton or straw versions. It's also suitable in winter, for patterns made of wool felt.
The Full-up hat is identical to the Trilby, except that the brim is detected on the entire crown. Such a difference makes it an ideal hat for a more casual look, you can even make your best flowered shirt much less cheesy! Notice that the edge of some models may be lowered on the front – trilby style- giving you two different styles depending on your mood.
Porkpie is a hat with a flat skullcap on the top and a small edge regular and raised on entire circumference. Made, originally, from woolen felt-tip, its straw version is also available. Porkpie refers to this So British dish …. Just enjoy your meal! Made famous by artists like Fred Astaire or Dean Martin, it is also often associated with ska music.
Invented by Giusepe Borsalino, it is the key model of the famous Italian hatter. The term "borsalino hat" entered the common language for designer. Distinguishing sign of the gangsters of the 30s, it was also made famous by Humphrey Bogart. As long as you have the taste for the Fedora, you can adopt it whatever look you wish to have: bad boy version of mafia circles, pop look (Michael Jackson), or dandy (Johnny Depp, Kate Moss).
With a specially designed shape for adventurers, the traveler hat also called Safari, is a fedora hat. The difference is that its brim is fully bowing, including its back, for better protecting the neck from the sun. His most famous ambassador is undoubtedly Harrison Ford, alias Indiana Jones.
It's both a real institution and cultural icon in London. Its name comes from its creator, Bowler, which means « melon » in French. It is an emblem for the high society in the early 20th century. He brings today a whimsy, humor and absurd touch, as Laurel and Hardy or Charlie Chaplin. It is also appreciated by the punk movement, certainly for his offbeat side. Prefer the simple clothes to which it will bring some originality, rather than eccentric outfits that could make you look like a clown!
Face, morphology
If you have a nice regular face, deserving of a Greek statue, you are lucky ... There is no need to read the following lines, you can all wear. On the other hand, if you are not perfect (e), or rather, if you think you're not; or you have small complexes, choosing the right hat can erase you from these defects, while a wrong choice would make them more obvious.

Let's take an example: you have protruding ears. Imagine a hat with a very short edge and ears which, exceed. Not great, right? On the contrary, a Borsalino, or cape, with a long edge, gives the impression that your ears are smaller in contrast.

In the same order of idea, if you have a big nose, also choose a long brimmed model, and wear it slightly leaning on the front, for look away from the nose.

With a wide or square face, choose a small brimmed model, it will refine your silhouette.

Conversely, for a narrow and elongated face, choose the longer edges which "break" the facial lines. You can even add a pair of glasses to accentuate the effect. Also avoid too high caps, certainly not a top hat!

If you have a round face, avoid melons or cloche hats and choose a skullcap wider than the face.

If your face is small, prefer the small edges to lengthen your silhouette.

However, if you are both small and chubby , with protruding ears and a very big nose, then all my efforts will have been vain. It only remains for you more that solution. Wear a hood!
Head size measurement
Take the size of your head about 1 cm above the eyebrows and ears. Do not tighten too much, think that the hat may shake you in the same way. If you do not have a tape measure, use a string to take the measurement. If it falls between two sizes, we recommend choosing the largest for comfort.Our hats come with 2 strips of cork that slips under the comfort band inside. They can reduce the headband, and thus adjust it to measure.
There are 5 types of different sizes :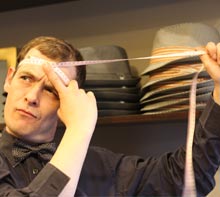 The size measured in cm
Generally from 55 to 62 cm
« S », « M », « L », « XL »
S = from 54 to 56 cm – M = 56 to 58 cm - L = 58 to 60 cm – M = 60 to 62 cm.
Beware, the sizes may slightly vary according to the designers, so you'd better refer to the indications given on the website.
« S / M », « L / XL »
S/ M = from 55 to 58.5 cm - L/XL = from 58.5 to 62 cm Beware ! These values are indicative, thus follow the indications on every product sheets. Understand large and small. In general, these hats are generally provided with an elastic headband Spandex for better assure maintaining one the head.
One Size hats
Generally, the hats in unique size are also those with the more casual styles, so they do not have the same need to fit your head perfectly. Especially if you wear it largely focused on the back of the skull. However be careful not to choose these hats if you have a big or a small head. Some are equipped with an elastic headband Spandex to make it better fit on the head.
Keeping
Storing
To avoid Edge deformation, it is advisable to store your hat upside, turn it over, top down. Do not leave the hat on a back shelf of the car. Indeed, he glass amplifies the UV radiation and it can discolor or dry the brim especially for the straw models.
Wet hats
Turn the internal comfort band, then let it dry at room temperature avoiding any source of intense heat that Could make it shrink
Dented hats
You can remake its shape by holding it over steam. This is usually very effective. You can use a pan, an iron or kettle. Once moistened, you can easily make it back to its original shape regardless of its material.
Cleaning
To remove its dust, use a clothes brush in the opposite direction of clockwise. To clean a felt model, place in a steam source before brushing. In case of a fat task, you can use talc before brushing it gently. For a boater, use a slightly moistened cloth.
Shop specialized in online sales of fashion hats. We select for you the latest headwear trends. Discover our collection and our different styles which will suit your wardrobe. Affirm your identity by adopting an suitable style. Hat trend is back for each season and for our greater pleasure.
Tags
Scarves
-
Panama Hat
-
Women
-
Classic Italy
-
-
Fashion Hats
-
leather Black bag
-