The trilby: an advantage of charm just on top of my head!
Trilby Hat
« What's hat ! » would have said the character of the novel Trilby (1894), written by the British George Maurier. Adapted into a successful play, its eponymous hero conquered the world with and thanks to this beautiful short-brimmed hat. Raised on the back, pinched towards the front, its visor is slightly pointed towards the front and subtly reveals the eyes of its owner.
Read more ...
The trilby hat now seduces men and women.
The Trilby hat has naturally and simply become Trilby. Formerly reserved to the gentlemen of English high society, it crossed the 20th century and met glory in the 80s with a new public, the women. Symbol of dandyism, the latter adopted it to better seduce...like a tomboy! Considered today as unisex and presented under all colours, materials, sometimes decorated by feathers, it has become inescapable.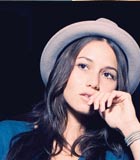 Morphology : Choose your hat
Choosing the appropriate model is not easy. Here are a few tips to become an expert of the matter!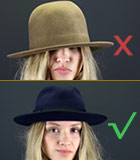 Guide of the hat.
Read our tips and shed light on that.
Trilby hat for man and woman
What's hat? What's more? The Trilby is a novel and a hat. It is also the pseudonym of a French novelist (Thérèse de Marnyhac), an American silent film and the title of a French novel Trilby or the Lutin of Argail from Maurice Tourneur. Then to go as far as to say: What else...? Designed for those who come from Venus and the other coming from Mars, this hat adapts to all types of faces. It is rather discrete compared to other shapes. Its brims are raised on the back and, most of the time, lowered on the front. Its crown is rather low and pinched on the top for allowing a better grasp. In addition to these characteristics, nothing less than formidable, some are foldable and shape memory. Some models are also Made in France and customizable by choosing the colour, the braid and even by adding a decorative feather. You can't stop progress, and some models are today waterproof: wear the latter even in rainy days. The eponym of the novel is the ideal model for a first purchase. An example: have a look at this marvellous
Marky - Mon Trilby Feutre
: you can choose the colour, the braid...it is made in France, foldable and waterproof. In Poker, it is called <
>. We offer you a large range of Trilby, of every colour and shade, and above all of every possible material for the making of the latter: straw, for the summer days (some of which are genuine panama), leather, felt and even cotton.


Tags


Leather Wallets
Men's Bag
Brown Bags
Cheap Hats